Spring is here!! - Wed, 25 July 2012
Spring is almost here so why not start to plan a spring clean of your home, office or business.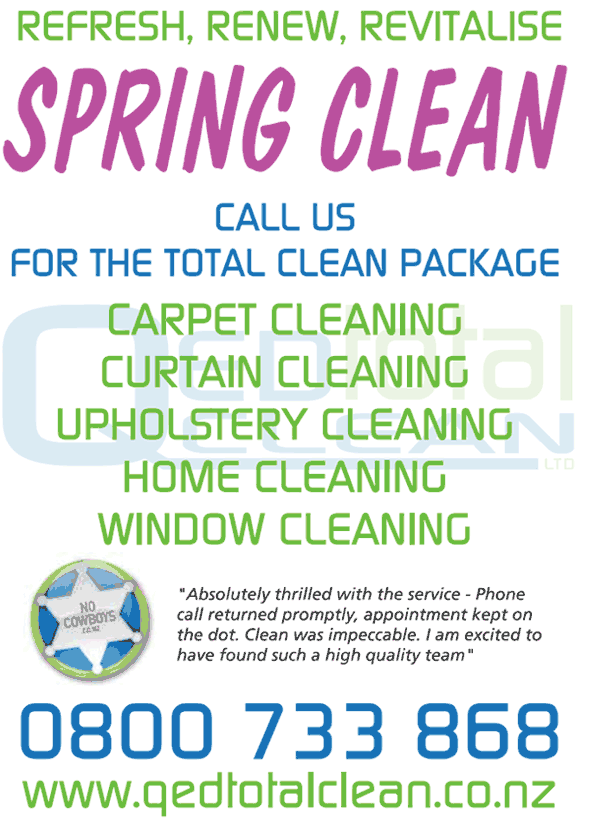 Whether you want your carpets cleaned, curtains dry cleaned or upholstery freshened up, the team at QED Total Clean is here to help. Imagine how much of a difference a thorough spring clean of your home, office or business would make. Create a healthy, clean environment for your family, friends, colleagues, staff and customers this spring. Prepare for the arrival of the warmer weather and get your home, workplace or business professionally spring cleaned by our friendly team. Our professional team offers an affordable specialist carpet, rug, upholstery and mattress cleaning service which will leave your home clean, deodorised, sanitised and dry. Take the hassle out of dry cleaning your curtains and have our team clean them on the track. No job is too big or small for our professional team. Revitalise your home with our following services; window cleaning, spring clean, regular home cleaning and tenancy cleans.
Book now for a QED TOTAL CLEAN package!
---
Add a comment